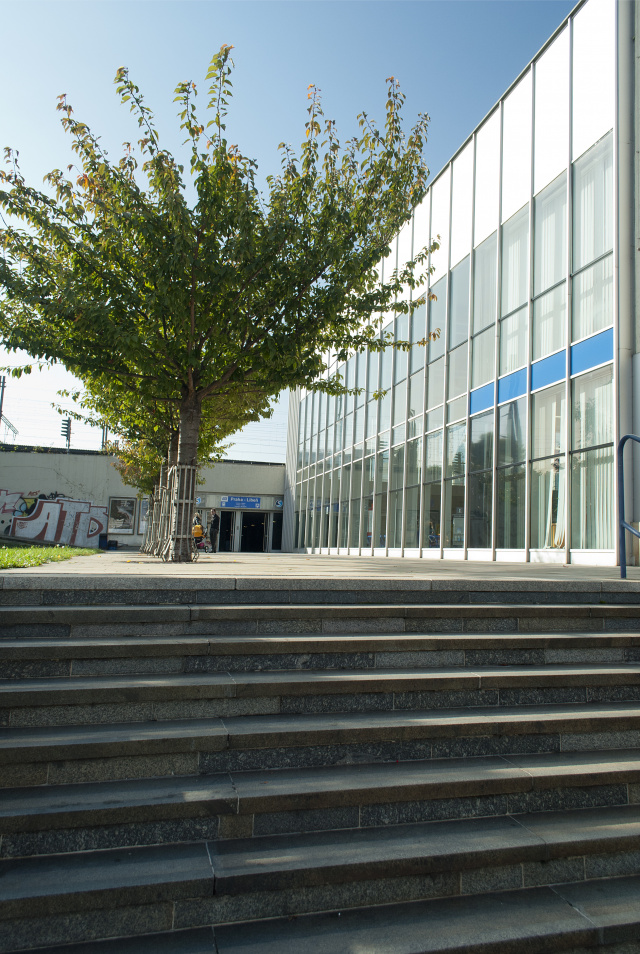 The hall height including a parapet is 11,15 m, out of which 8 m is a free space without intermediate supports.  The eastern facade envelope with most of its area glazed belongs between the most interesting works and was a big challenge mainly when structural reasons are considered. Sipral chose steel welded structures made of steel oblong tubes of 180 x 60 x 5 mm to form the basic bearing grid of the facade. On this structure there was an all-glazed glazing system with thermal breaks, Schüco FW50+ Aufsatzkonstruktion (now labelled as AOC 50), with face width of 50 mm. Width of modules between mullions is 1500 mm, height zoning of the facade is the following one: a non-transparent part of a plinth is 0,25 m, a glazed part is 1,85 m + 1,5 m, a non-transparent part is 0,5 m, and a transparent part is 1,5 + 2,2 m. The non-transparent part at the parapet is 3,35 m high.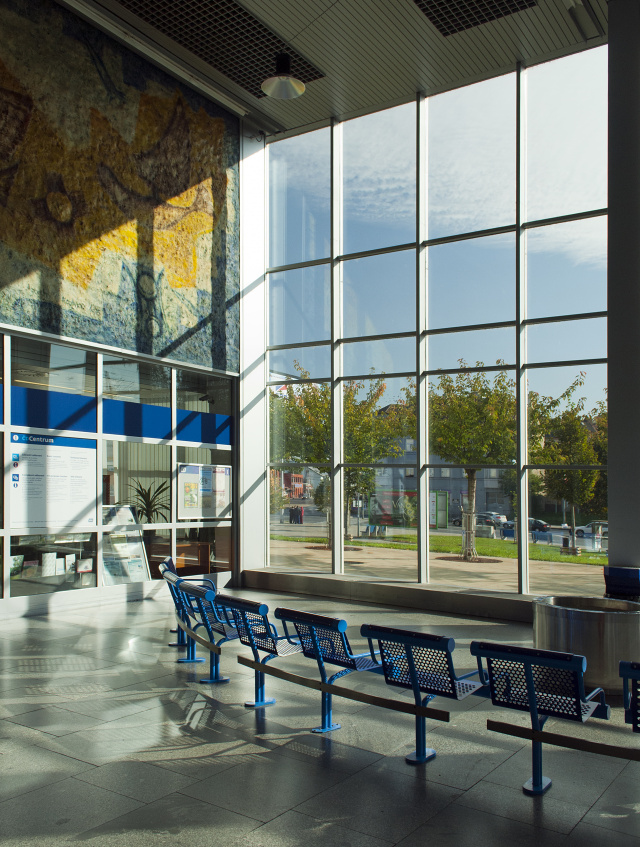 An interesting issue when installing the grid was mounting of pre-manufactured elements of 1,5 x 11,15 m, which were transported to site on a special flatbed truck and installed with a crane in the following order: an element, welding of horizontal transoms, an element etc. Weld joints were neatly worked on site and painted, then EPDM sealant was glued through and then the parts were installed to the level +3,6 m.
Glazed panels are equipped with thermal insulating double-glass units up to the level +3,6 m with external and internal pane made of laminated safety glass or composite panels in silver metallic paint. Non-transparent panels are made of thermally insulating cassettes with external enamelled glass unit or composite boards in a silver metallic paint. From the exterior side there is a 3 mm thick aluminium sheet installed because of strengthening. On the left part of the facade where also a double-wing full door is situated there are aluminium profile strips to make the area finer visually.
Tiny glazed aluminium structures on the southern and northern facade as ribbon windows, shop windows and entrance walls of Schüco FW50+HI, RS70 HI also formed a part of our delivery as well as additional supplies as cladding of bearing columns with composite boards or cladding of a horizontal strip bellow the southern glazed facade. All aluminium vision materials are in silver colour, profiles are anodized and boards are in silver metallic paint.