Delivery of decorative grille to the prestige brand store of Louis Vuitton on Champ Élysées, Paris. The project was crucial for Sipral from many aspects. This was the first project where 3D designing (Inventor) was applied massively, our first project in Paris and it was also a project absolutely different from any facade constructions executed by our company until that time.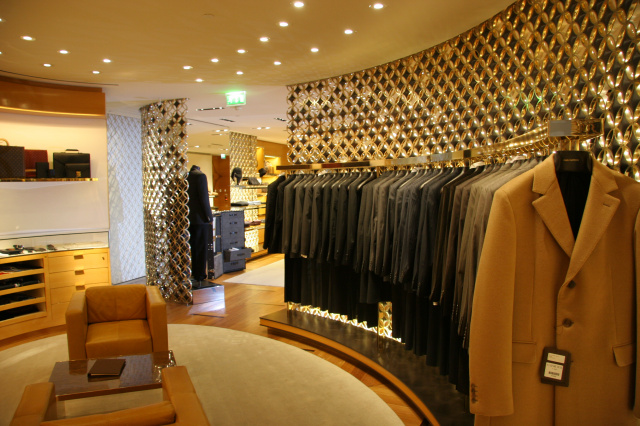 There were approximately 1600 m2 of internal decorative grille divided into 8 individual zones. Most of the zones are flat, the biggest is 38 m long and 8,5 m high but some grilles are arched and eliptical.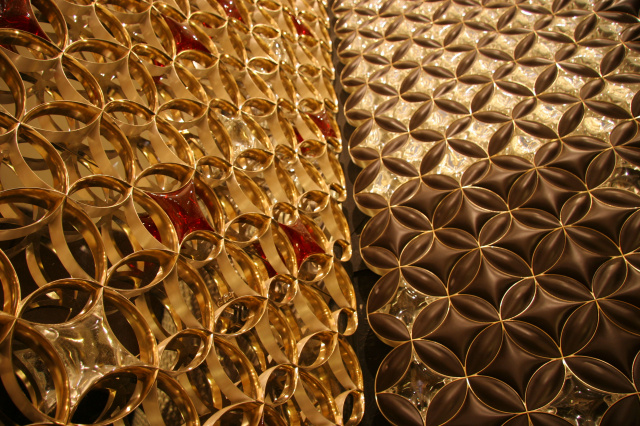 Basic units that form the grille are die-cast stars of approx. 117 x 117 mm, made of aluminum alloy. There were 98 000 pieces in total used in the project. We reached the golden surface of the stars using a complex galvanic application of several layers of various metals, the last one made of real gold.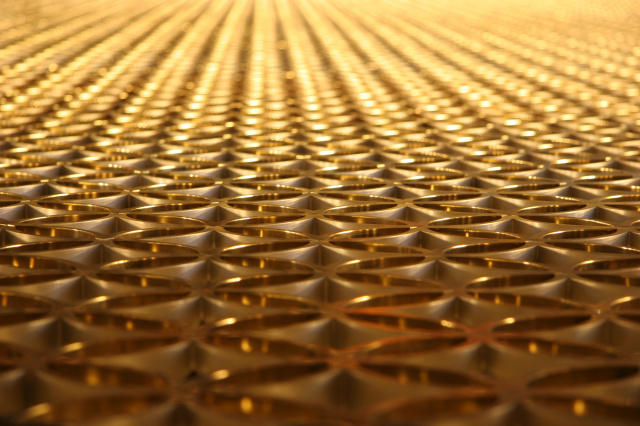 Individual stars are inter-connected and form grilles through a sophisticated concealed screwing. The grilles are suspended on rails placed on a suspended ceiling of the store. Even if the grille is taken as decorative it was tested also for railing function or for situations when someone could climb on it.
The golden grille is on many places completed with ornamental inserts of various shapes and materials – around 22 500 pieces in total. Most of these are with leather surface. You can also see inserts made of porcelain, clear glass or crimson red glass and Wenge wood. Some inserts are enamelled in distinctive colors. All inserts are attached to the grille with concealed elements enabling possible dismantling or change of inserts if architectonic conception of the store is changed.
When executing this project high quality of our suppliers (Czech companies) was proven from traditional crafts as porcelain, glass, work with leather or metal electroplating or exact engineering including casts and wood working.  
Aspect and quality of the resultant work were highly rated also by the client himself, a representative of Louis Vuitton, a company that is a synonymum of top quality.