While reconstructing the interior of Printemps, the Parisian historic department store on Boulevard Haussmann the investor was inspired by the original aspect of the roof stained glass and its basic flower pattern to design a large decorative grille. This complex vertical decorative element drawn over 7 floors separates a commercial part from the new escalators. The whole structure is composed of dozens of inter-connected although individually dismountable panels made of two basic layers installed on an aluminium bearing structure.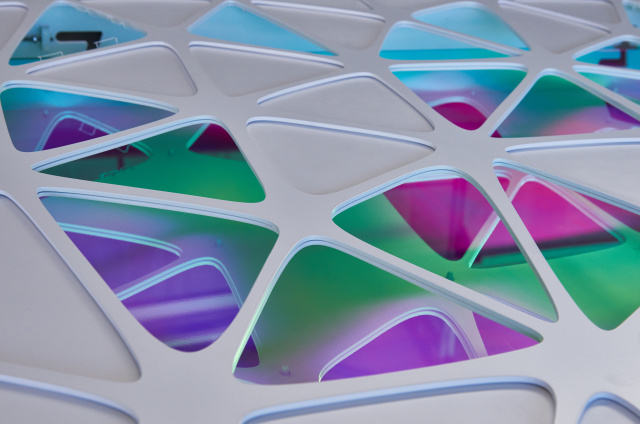 Bottom layer of individual modules is made of anodized aluminum sheet on which a so called dichroic foil. The foil changes colour when viewed from different angles and this high colour variability forms the basic property of this relatively new decorative product. The dichroic film in rainbow colours is shown through the top layer of the grille made of white painted aluminum sheets with flower-like cut-outs and in two layers it creates a vivid plasticity of the work. Thus the whole wall has a very subtle and lively aspect and forms an eye-catching structural jewel.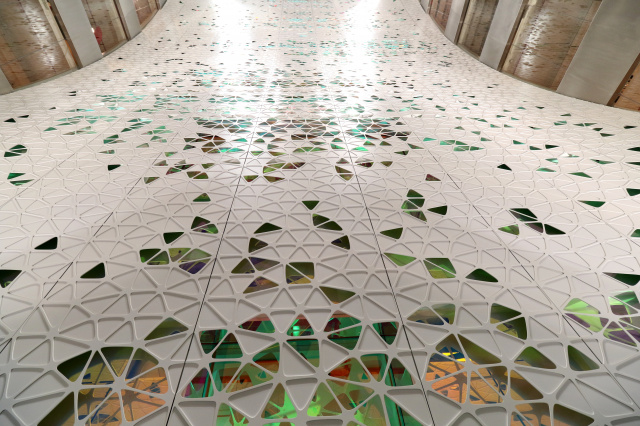 The grille execution took incredibly short time of less than four month. In this period it was necessary to coordinate works of various suppliers thoroughly during operation of the remaining parts of the department store. Thanks to professional approach of all participating parties this exceptional work was supplied in time despite difficult work conditions.