Climbing up to 25 storeys high, the three towers that make up Barratt East London's Elektron makes a mark on the east London skyline. The high-rise scheme's apartments have balconies and terraces that look out to the Dome, Canary Wharf, the City and beyond.Elektron buildings are in close vicinity to the East India station of London DLR near Canary Wharf in eastern London. During recent years this area has been going through great development that thanks to the Olympic Games being held here, was slowed down by the world crisis just a little.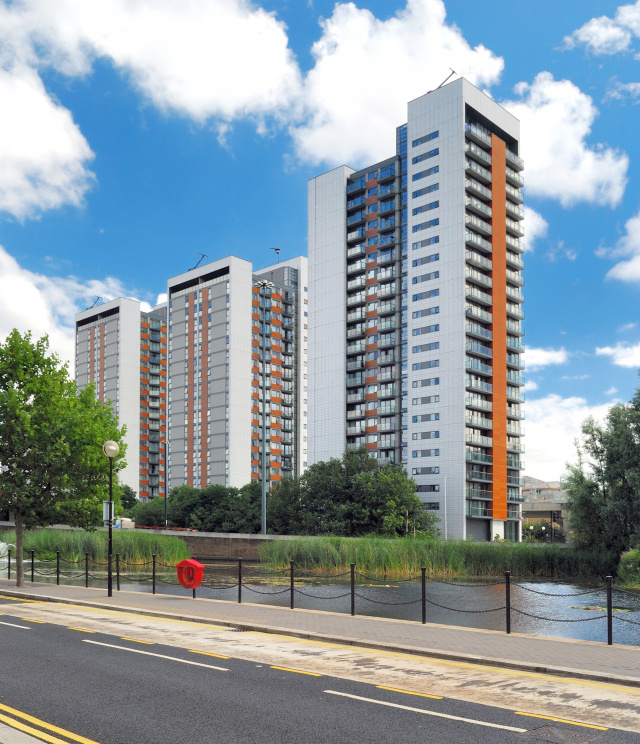 The developer – Barratt - decided to construct 3 high-rise buildings on quite a small area surrounded by highway and above ground railway. The buildings are 76m and 82 m high. Sipral proposed the client to solve the façade as a light unitized envelope and we got the project thanks to this concept. During design and realization of the project Sipral had to overcome many obstacles – for the client this was the first high-rise building (in spite of the fact that they are the largest residential developer in the UK), the façade envelope is quite rugged with high percentage of various types of cladding (ceramics, prodema, fibrocement), and there are 530 balconies hung off the façade.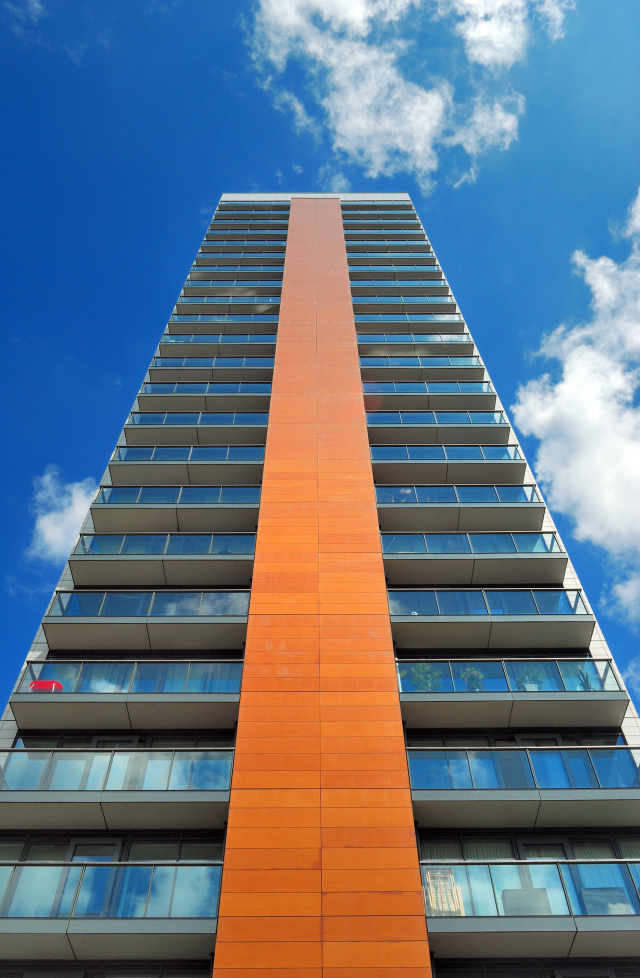 The structural system of light envelope is based on Schueco unitized façade with a horizontal joint capable to cover +-20mm. Since the building required modules of a variable width reaching up to 5m, there were used thermal-insulating panels with Hemsec inflammable foam as a filler and also structural element. At the level of module ceiling slab there were installed anchors for future steel balconies. The anchors were activated after installation of modules with a slab and transfer loading from balconies directly into the bearing sub-structure of the building (not to the modules themselves). Such a design enabled Sipral to install balconies after the building had been water-insulation enclosed. 
Production of modules and pre-fabricated balconies took place in our fabrication premises in the Czech Republic. On site the prepared elements were installed with a combination of a stationary crane and an installation double-rail that was specially designed for this project.
The construction was awarded several times. BRITISH HOMES AWARDS - 2007
In the category: Innovation Award for Building Technology is one of them.