This modern all glazed building is placed in the very center of Manchester on the border of newly created modern group of buildings and gently incorporated in the original historical center. The building is visible from the central square and catches attention of passers-by with its unusual structure. The building was erected in close contact with the main busy Moosley street with public transportation passing nearly every minute and is mirrored in glass panes of bottom floors. There is one pecularity related to that – a fixing point of a trolley penetrating the facade and incorporated in the building bearing structure.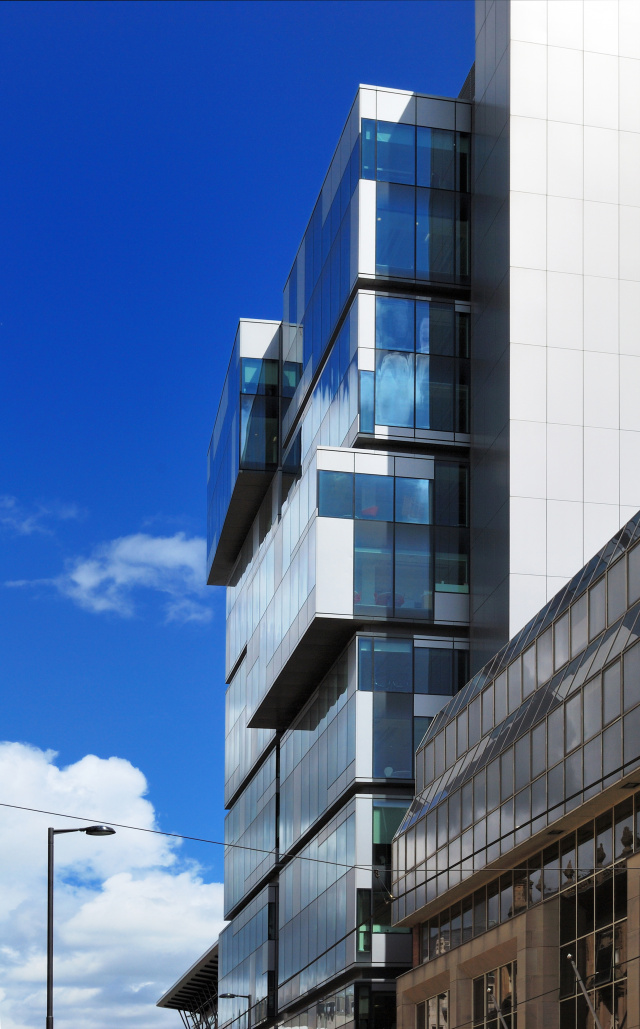 The twelve-storey administrative building is from one side adjacent to an already existing building and from 3 remaining sides is formed with an all-glazed envelope consisting of so called element facade. The architect's idea was to stick out individual floors or parts of them in various height levels and on various sides of the building (of more than 2 m from the surrounding area) so the building looks vividly and catches the eye of everybody passing by. 2 top floors are turned under layout angle against the whole building towards the exterior which may resemble a part of Rubik's cube. Horizontal lines are highlighted with non-transparent strips that create negative niches each second floor. In the vertical direction the area is "broken" thanks to several modulation fields which are either sticking out or in. It creates the effect of other inner corners that enable spatial view to the surrounding built-up area from several offices on each floor.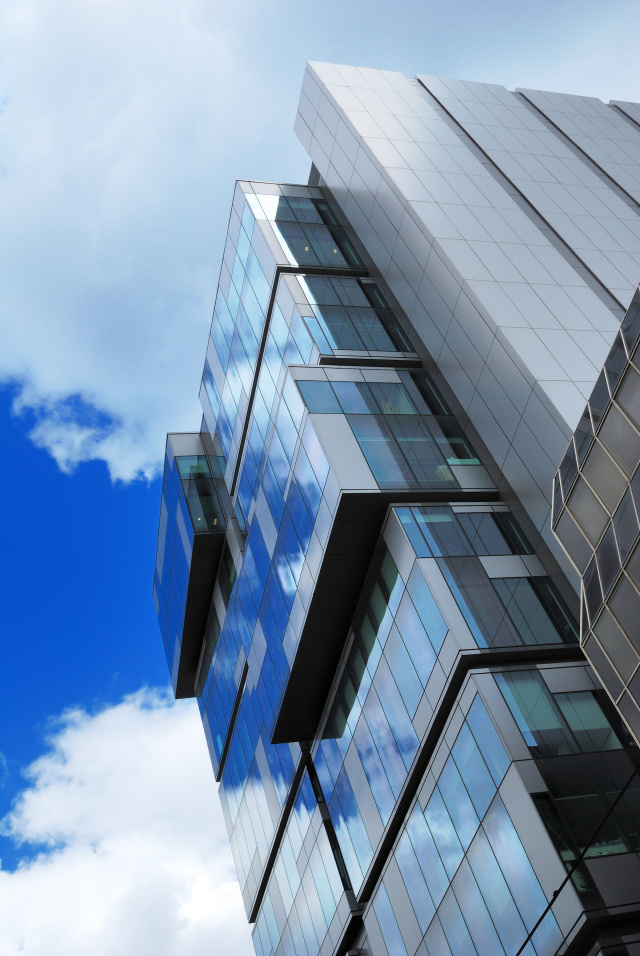 With regards to the facade complexity there was used Solidworks 3D software in which all modular elements for internal fabrication were modelled in every detail. System of the facade anchoring was quite demanding, we had to design 3 principle systems of anchoring modified in different height levels. The anchoring had to be prepared so that it enabled not only installation of facade elements but also spatial rectification of already installed elements that was done in 2 stages: first after installation of the whole floor and then after the whole installation of the building.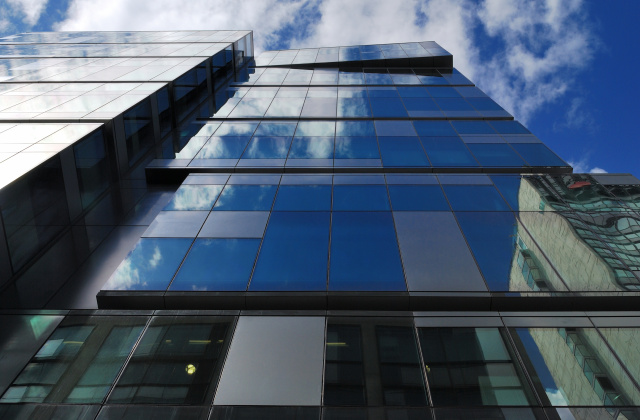 Facade modules were completely manufactured and assembled with all panes and infilling elements in the Sipral's fabrication hall then taken to the site and installed to pre-prepared anchoring. Infilling elements are made of all-glazed panes on about 80 % of the area or non-transparent bond cladding  situated in horizontal strips or randomly chosen vertical modulating fields and such a kind of irregular chessboard is created. Glass panes or non-transparent cladding bond boards are structurally glued along the whole perimeter to bearing frames so the final elements are very rigid. On each even floor the glass panes have a railing function and also function of ceiling board covering. Covering parts of glass units are again solved in a sophisticated way with so called frits – a pattern burnt on the glass material itself. These start with slight nearly imperceptible dots later on gathering in a non-transparent web where density of the print is inverse when compared to a completely transparent pattern in the beginning. On odd floors the covering of ceiling constructions is substituted by spatial modules with non-transparent panes of enamelled glass or bond cladding in 2 color designs.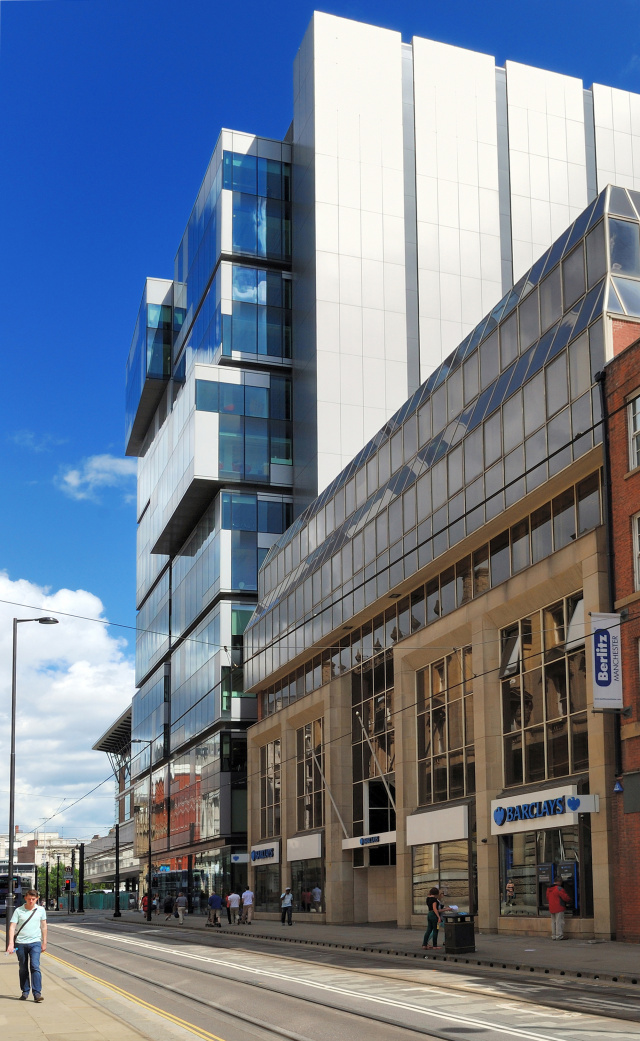 Other special features are spatial corner modules developed with the aim to have as large through-vista as possible from the interior to the exterior in various directions and so eliminate disturbing vertical (though subtle) corner profiles. To reach this the infilling elements are also solved with a structural connection in combinations of glass-glass, glass-bond, bond-bond. In the variant of non-transparent corners made of bonds there are to be mentioned two colors of sealed joints between adjacing elements. Bottom floors in the variant of glazed stick facade and lateral vertical ventilated non-transparent cladding were supplied by 2 other sub-suppliers for which Sipral designed details of connection to the principal element facade to provide thermal comfort of water-proof or vapor-proof connection of the said constructions.