Prague Marina Office Center is located on the left bank of the Vltava, in Prague 7 – Holešovice, next to expanding mixed administrative and residential development.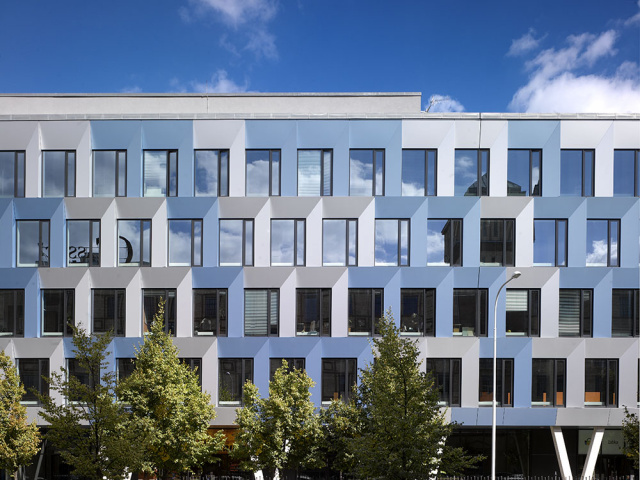 Although the building looks like one unit when viewed from outside its functionality is divided in three parts that are 60 m long, roughly. On the groundfloor there are commercial units. On other floors administrative spaces can be found.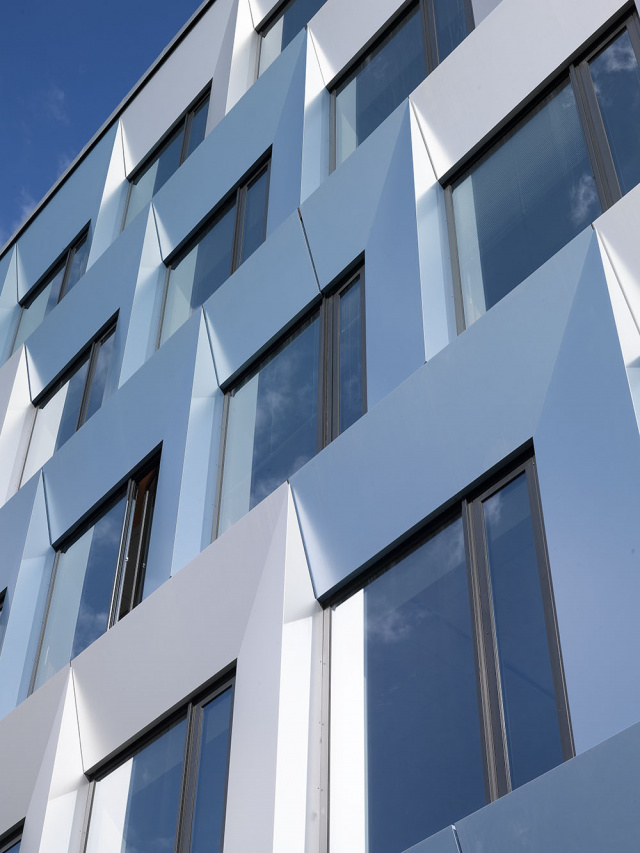 Sipral delivered all the bellow stated facade structures, entrance sliding automatic doors, rolling garage gate and acoustic cladding of roof penthouses.
There are several types of facade on the building. On the 1st floor there is a stick system facade used, it is glazed along the whole floor-to-ceiling height of the inner space. On the full parts towards Jankovcova street the facade is clad with flat cassettes made of composite boards, towards the residential houses it is made of one envelope with a plaster colored in mass. On the facade of the 2nd – 5th floors there are window panes with an opening part. A typical window module is 1900mm wide (fixed glazing - 1300mm, the opening part - 600mm) and 2500mm high. The facade on northern, eastern, southern and a part of western side (along the building side) is ventilated with a cladding made of colored composite boards that are slightly set off.  The connecting link facade on the eastern side is made of stick system and glazed along the whole floor-to-ceiling height of the inner space, in non-transparent parts it is clad with composite boards. Facades of staircase shafts are made of stick system and glazed along the whole height. External view in the arcade along the street facade is composed of hung composite boards.
The ventilated cladding made of set-off colored composite boards from the second floor up is the most interesting structure. Spatial cassettes that create a spandrel and a jamb of each window were pre-fabricated at workshop without previous surveying and mounted exactly on anchors of the window frames. Windows had to be mounted with high preciseness. There were used only two colors of composite boards, silver and metallic blue. Thanks to the boards´ spatial fractures and light reflection on their metallic surface it seems that there are minimum four colors.