An office building housing CEZ, its investor was contracted by Metrostav a.s., division 9. It was designed by di5 architekti inženýři, and is placed in Duhová street, in close vicinity of D2 and BBC-E administrative buildings.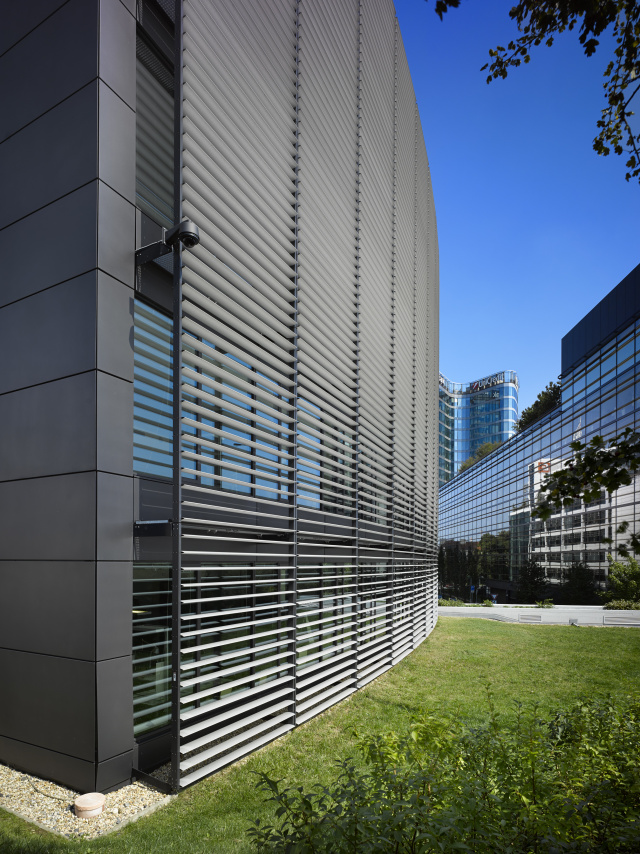 The building follows D2 building with its layout and height and with its shape it reacts to the adjacing motorway – the southern facade of otherwise reqular cubic building turns in a smooth curve towards a direction parallel with this motorway. The basic volume of the building is cut through with a vertical communication core – a grey concrete cube with all glazed fronts. The facade is a combination of glazed areas and aluminum sheet cladding in anthracite color. A shading structure with horizontal aluminum lamellas is suspended in front of the southern and eastern facades, it emphasizes curvature of the southern facade and visually creates a protective shield in the direction towards the motorway.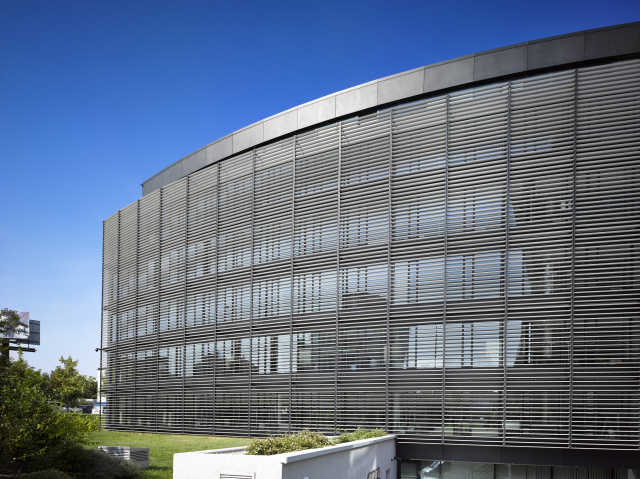 There are three under-ground floors and six above-ground ones. The top one is made as recessive. The building contains approx. 3100 m2 of office area and 89 parking places on the under-ground floors and the parterre. The main structural elements, white-glazed ceiling slabs made of reinforced concrete and columns are applied also in the interiors. The building is designed with an emphasis on internal environment quality optimization in relation to economic aspects of the building operation. The building is protected to the maximum degree against effects of insolation.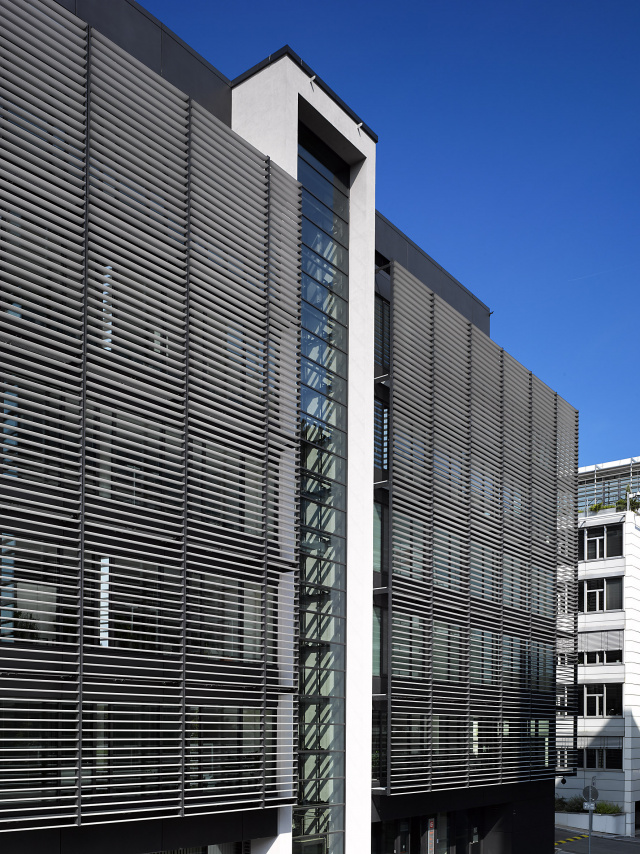 Sipral took part in this project with execution of the following structures: ribbon windows – modules with windows inserted, claddings in between spandrels made of aluminum sheet, stick system facades on the terrace on the 6th floor with embedded doors and windows, stick-system facade of the staircase and elevator shafts, structural facades on the 1st underground floor – entrances with automatic and manual doors, fire-resistant external steel one-wing door, fix-glazed roof skylight, vertical solar-control grille made of 200 mm wide aluminum wings and a walkable meshed floor, external shading made of 80 mm wide aluminum lamellas on the 6th floor, internal 25 mm wide louvers on the ribbon windows, parapet metal cladding made of aluminum sheet and contact warming-up system with a plaster.
With regard to a limited storage availibility on site we had to set up the supply logistics in a perfect way. We applied a logistics concept better known in automotive industry as "just in time". We used the Sipral-developped "trace and tracking" system to plan element fabrication transport to the place of installation, mainly of the element facade but also other material. It was also quite demanding to make mock-ups of all parts of the delivery, the investor laid emphasis on quality of the used materials and installation works during the realization itself. Also the way defects and unfinished pieces were assessed was really severe. The resulting work can boast with high standard that corresponds with current requirements of building sustainability.