Keystone, an architecturally exceptional building was designed by EM2N, a Swiss architectonic office, as a modern interpretation of the Czech cubism. This new dominant in Karlín is placed on the border of the original development on the corner created by Pobřežní and Šaldova streets. The building has three undergorund floors for parking of 68 cars and 8 above-ground floors that offer 6 500 m2 of administrative area and 850 m2 of commercial areas.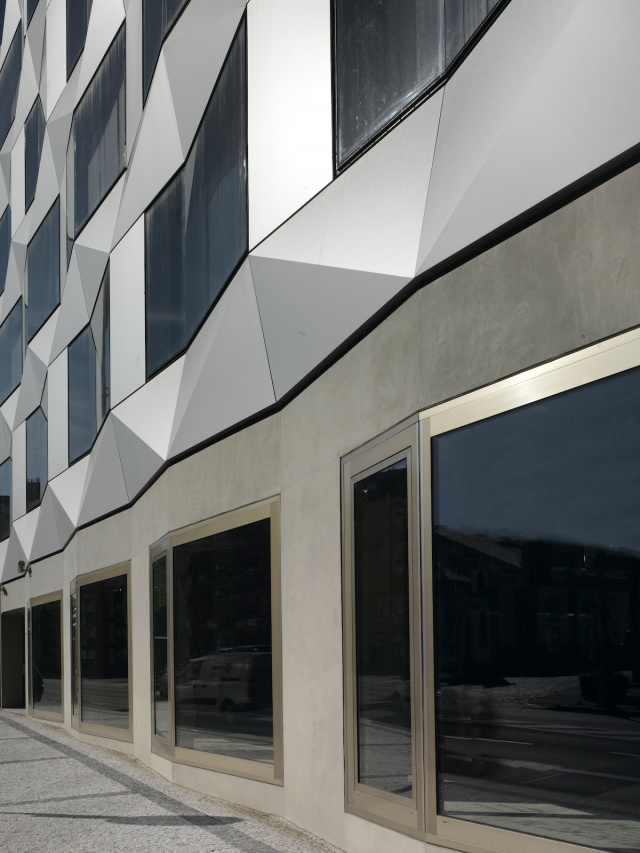 Sipral took part in the project with a complex design, fabrication and supply of the building envelope. The northern and eastern facades and the whole part of the upper recessing floors  is designed as a combination of ventilated bond facades with spatially shaped cladding boards, into which there are  window panes with set-off simple glazing inserted. In the space between both the panes there are shading blinds with electric drives and central control system.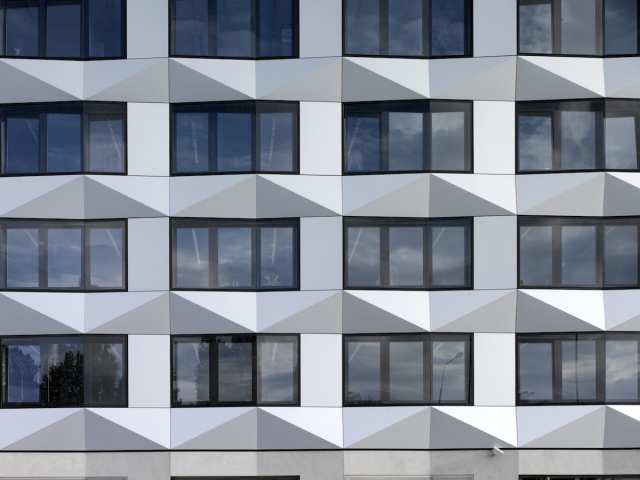 On the facade there are 121 pieces of window panes built-in openings in reinforced concrete construction of the building. Outside each window on the facade with the ventilated cladding there is a frame with structurally glued toughened glass installed on set-off steel anchors, and so the second level of glazing is created.
On the bottom part of the atrium facade (the southern facade), where a contact warmed-up system is used, there are window constructions without the set-off glazing bordered with sheet metal surrounds.
The bond facade of 1400 m2 is made of Alucobond, grade A2, that meets all demands of this type of facade including fire ones. Individual boards (spatial elements) were fabricated on the basis of 3D models of the whole facade.
In the design stage the whole facade was modelled in 3D software and on the basis of this the shop drawings of individual boards were prepared. This principle enables to specify exactly the material necessary for fabrication and also to pre-fabricate boards sufficiently in advance. Installation on site consists only of hanging of individual cassettes into a prepared sub-construction without additional adjustments on site.
On the groundfloor at the level of a public road, on the eastern and northern facade where there are entrances into the building and entrances and shop-drawings of rental units the frame constructions are made of aluminum profiles with Edelstahl look surface treatment that visually imitates stainless steel. 
On the terracce of the 5th floor and roof of the recessing facade there are anchors for ROSTEK maintenance syste. During maintenance a davit arm is fixed to the anchoring points and climbing ropes can be attached to it easily. This system enables easier access to the facade when maintained by climbing technique without a risk that parapets and facades get damaged mechanically.