The originally five-storey building on the Wenceslas square No. 16 was built in 1926-27 according to plans of J. Jerolím, an architect. In the frontage of this building there are two female figures made of sandstone by Břetislav Benda. Before 1989 this former Družba hotel was known primarily for its snack bar on the ground-floor and Tabarin, a wine-bar. In the 90th the house was reconstructed for Česká spořitelna exposition. In 1993 Sipral took part in the reconstruction delivering glazed envelope structures, atypical interior partitions made of bent glass units, fire-resisting sliding walls, common interior glazed doors, balcony doors and doors with fire-resistance, atypical windows and roof skylights.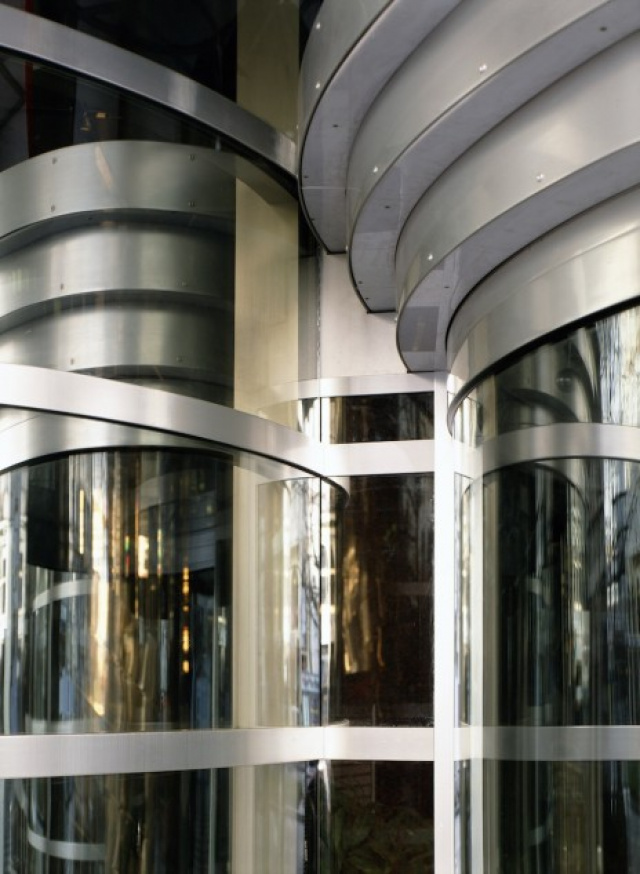 When you enter the building your eyes will be caught by a frontage with automatic doors. It is made of a glazed wall with a pair of automatic semicircular doors of CMC-2 type and diameter of 2400 and height of 2650mm. In the combination of white brass – brass – copper a glazed cylinder made of 10 mm thick bent safety glass shows up in a granite cladding. The door wings with framing and casing of the door travelare clad with naturally anodized aluminium sheet. In the upper part the door is dominated by a 250mm high three-level casing of the door travelwith a radius in thewidest place of 1350mm.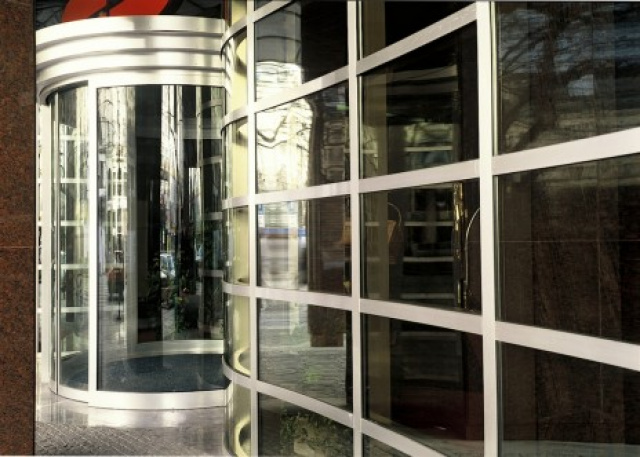 Inside the building there is a glazed roof dome built above a spindle-shaped staircase. The dome is composed of aluminium profiles. Geometrically it is a broken line structure (30° angle) circumscribed on a hemisphere of 1600mm radius that is anchored into a bearing structure of a building made of reinforced concrete.  Exterior glazing of the dome consists of 28 mm thick insulating double-glass units. The dome top is planned for suspension of interior suspended ceiling structure of 2 – 2,5t. The suspended ceiling structure under the dome is designed the same way as design of suspended ceilings of bank halls. Suspensions of a bearing structure are attached to the dome structure with bolts. There are bearing profiles of a suspended ceiling in a shape of circular rings welded onto the suspensions. 4-6mm thick mirror glass is fitted onto glued rubber pads. Strips are made of white brass sheet. Below the level of primary beams the suspended ceilingis connected to suspended ceilings of the bank hall and so the whole suspended ceiling is visually unified.  
It is worth to mention also five atypical windows on the 8th floor that make up four vertically broken areas broken under 12°30'. The bearing part of the window structure is fixed in the current jamb and the glazing is made of clear insulating double-glass unit. On the second floor there were five windows with extensible bottom part. Windows glazed with clear insulating double-glass are designed as metal windows with mechanic control and they keep the current spatial division of the facade. Pillars in between windows have their surface treatment unified with that of window structure, i.e. white bronze.