U červené lišky, a townhouse in the Old Town, Prague 1 district, is one of the oldest houses on the Old Town square and is located right opposite the Astrological clock. In the historical building yard coming from the 14th century Sipral executed partial roofing and enclosure up to the level of the first floor as well as the external lift envelope.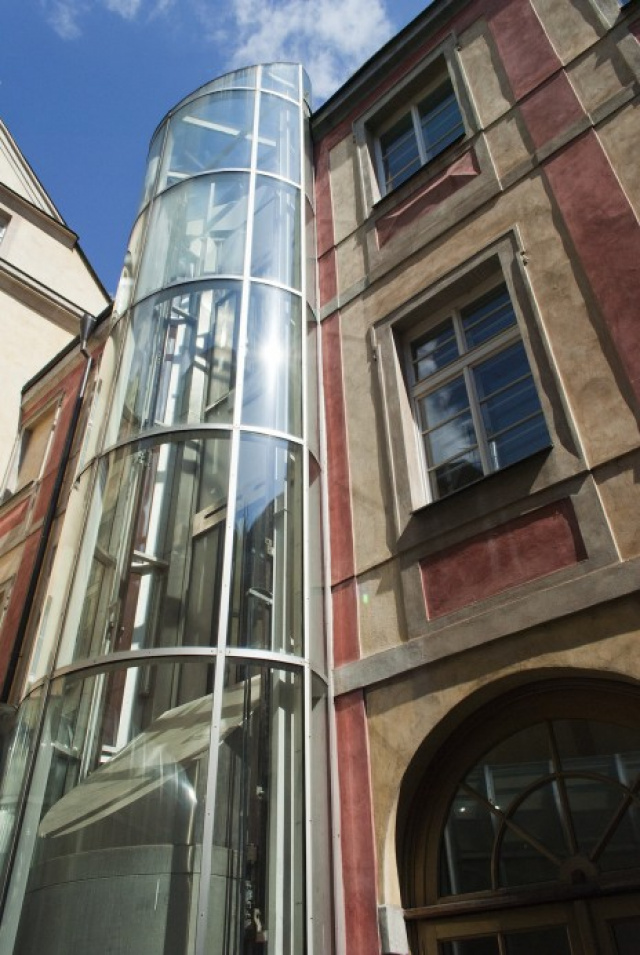 The partial roofing of the yard was done with a glazed atypical aluminium structure with arched ground plan that is anchored in the building structure and creates a kind of a sheltered passage. An aluminium grid consists of straight and bent profiles connected with special hidden connecting pieces located in the cavity of aluminium profiles.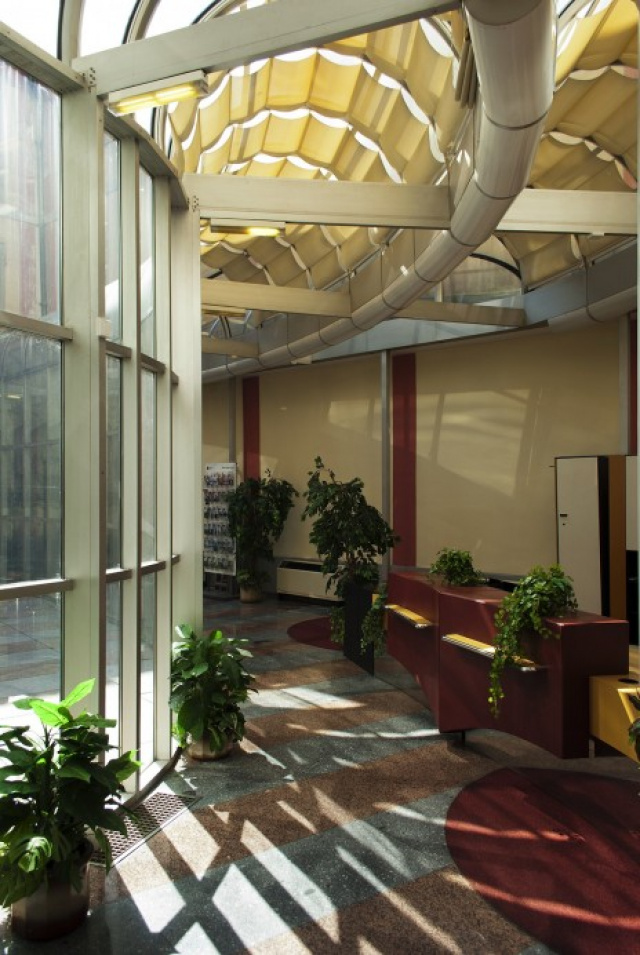 Glass panels made of insulating double-glass units are made of straight panes on the vertical part of the facade while the roofing is made of bent insulating double-glass units of irregular shapes acquired thanks to the arched ground plan of the glazing. The combination of bent glass units and arched ground plan laid high demands on exact defining of the unrolled shape of individual layers of the bent glass units before the bending. Then these were assembled to create double-glass units so that a uniform width of a joint between glass units and each glass unit precisely continued to the next glass unit. The glazing is made as structural, i.e. the individual glass units are glued with special double-sided tapes and strength sealants. Joints in between the glass units are covered with low clamping bars in combination with sealed joints with a special black silicone sealant for structural glazing.  
As a functional complement of the roof glazing there is the textile canopy shading installed from the interior side, where it copies the arched shape of the structure. The horizontally orientated glazed structure is complemented with vertical envelope of the external lift of the building. The envelope is solved with a similar system of aluminium structure and bent insulating double-glass units. In this case the aluminium structure is anchored to the bearing steel structure that is also used for the lift guidance.  
The project was complicated not just because of its atypical features but also from logistics point of view. Supply schedule preparation when there is no facility to store the material in the very city centre formed an important part of the whole project preparation.  The method statement had to take into account that this is a protected historic building. This structure belongs among the first ones that were done with the system glass structural glazing. The glazing performance is still very good.