A large administration and business building on Petrské square in historical center of the capital city. The building was executed by a general contractor from Austria – association of ZUBLIN and MAYREDER construction companies – on the basis of architectonic design made by Mr. Dvořák, a Czech architect. During the tender EP1 Austrian investor chose Sipral as a supplier of doorway constructions including the main entrance on the groundfloor, inner glazed passage in retail part and other small additional structures as for example canopies or decorative grills in windows. Winter garden in the eastern facade was an independant supply.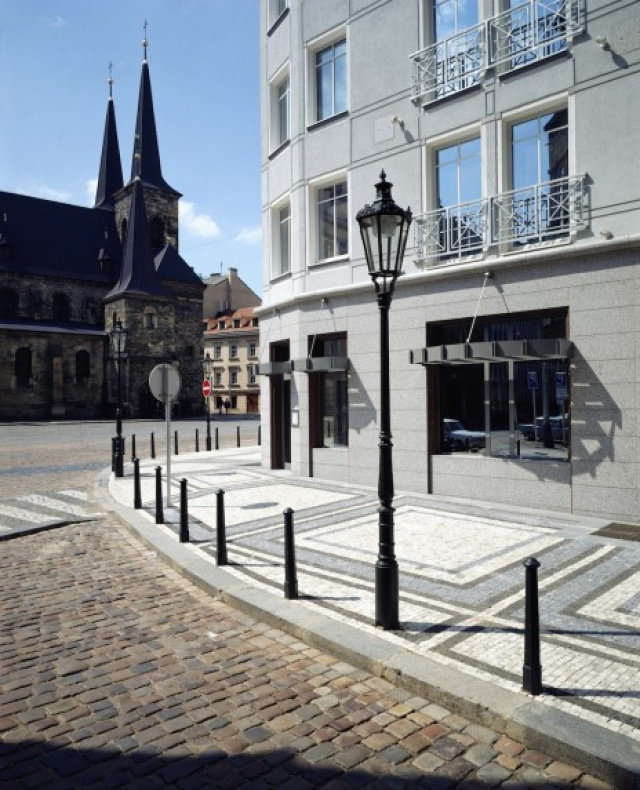 The building ground-floor cladding is made of natural grey stone combined with stone cladding of reveals with reddish tinge. For profiles thr RAL 9007 silver-grey shade was chosen and glazing consists of thermally insulating double glass units with Stopsol super silver clear on the outside part. Such a general concept of the facade is very harmonic. From the technical point of view HUECK 2.1 system can be used for these constructions and it is suitable mainly for its excelent thermal and technical properties. For glazed structures on the northern facade in the immediate vicinity of the main road with big traffic there was chosen special acoustic glazing with sound attenuation of 42 db. For the main entrance aspect a system of ABS with stainless cladding and brass handles were used. Sipral also delivered atypical all glazed structure creating passage walls inside the building.  
Sipral´s designers had to face a difficult problem to satisfy all investor´s demands on the winter garden´s functioning. A bearing skeleton is made of welded steel structure of Manesmann thin-walled profiles, the cladding is made of atypical aluminum bearing profiles with a system of clamping bars. The whole structure is solved as fire-resistant facade with corresponding glazing. Sipral took a big part in creating total aspect of this representative building in the center of Prague.