In course of 2013 an interesting administrative building rose on the corner of Budějovická and Sedlčanská streets in Prague 4. There are 3 underground levels aimed for parking and technical spaces and 8 above-ground floors with commercial spaces and offices.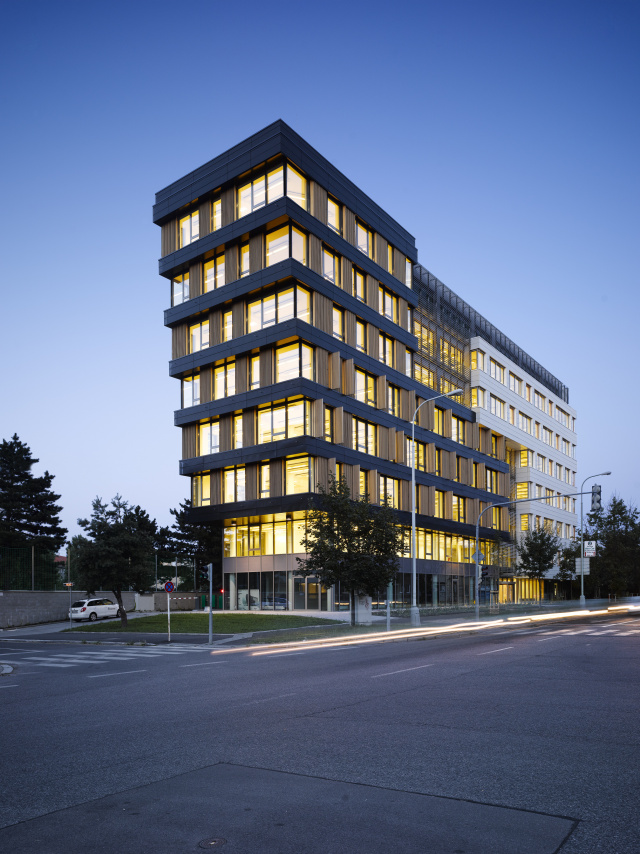 Sipral took part in this project with a complex delivery of the building envelope consisting of all-glazed structures on the ground-floor and a part of above-ground floors, windows, ribbon windows, and a non-transparent peripheral envelope. The envelope is equipped with a sound-absorbing mineral insulation (including diffusion open contact foil, UV resistant), with aluminium perforated panels in combination of black and white colour.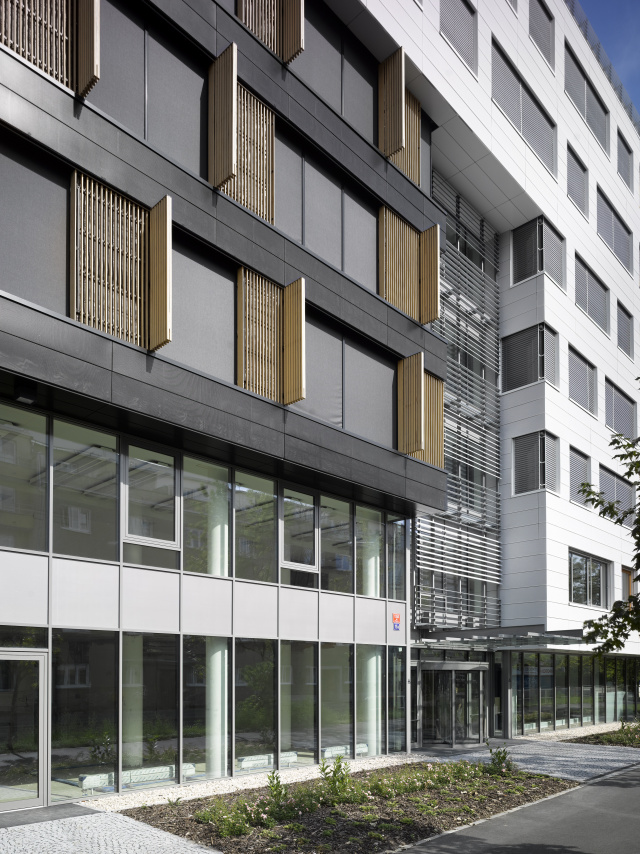 Along the ground-floor perimeter where a foyer is located, Sipral made an all-glazed stick-system facade with insulating double-glass units made of FW 50+ HI aluminum system and a glazed canopy with a bearing "L" shaped structure and point-fixed safety glass units above the main entrance. Above this canopy, between the 1st and 5th floors there is a self-bearing facade of FW 50+ HI aluminum system. Facade parts are also equipped with a contact thermal-insulating system with mineral insulation, with final surface treatment – silicone plaster of grey colour. On this part of the facade there are horizontal metal solar-control grills. Their bearing structure is equipped with a coating system in the colour of the facade. Leaves of the solar-control grilles are made of varnished aluminum profiles. At the level of the floor there are hot-dip galvanized metal meshed floors aimed for walking.
On a part of the building there are individual windows installed. Aluminum windows with insulating double glass alternate with wooden Euro windows of spruce timber, which corresponds in an interesting way with a cladding of ribbon window pillars on the front part of the building. The cladding is made of wooden strips 20/44 mm made of cedar tree fixed in vertical arrangement on a metal grid. And also with a cladding of window jambs made of 18/120mm cedar tree planks. Window shading is made of combination of external fabric blinds in so called ZIP system that holds and tightens the fabric along the sides (in hidden boxes made of aluminum alloy placed above windows) and external aluminum louvers with lamellas (80mm wide, "C" shape, with lateral guidance of strips. An aluminum louver is covered with a visible sheet-metal gallery in the facade. 
On the roof of the building there was formed a so called acoustic wall enveloped with a cement-bonded particle board which prevents noise transmission from cooling towers to the surrounding space formed predominantly with residential houses. This acoustic wall is clad with sheet from the top. It is equipped with expanded metal on the inner side.