Modrá Pyramida, a building and loan association established its central office in Vinohrady, Prague in a block of buildings between Londýnská and Bělehradská streets. On the place where a block of flats stood originally an administrative building of four under-ground and eight above-ground floors was erected. It is a monolithic reinforced concrete skeleton with a beamless ceiling slab and a layered external envelope of a reinforced concrete structure and stone cladding. In the under-ground there are two parking floors with two car-elevators, a computing centre and a training centre. The ground-floor is formed by a subsidiary and a walk-trough passage. The remaining seven above-ground floors include offices, including a director´s office and managing board´s offices.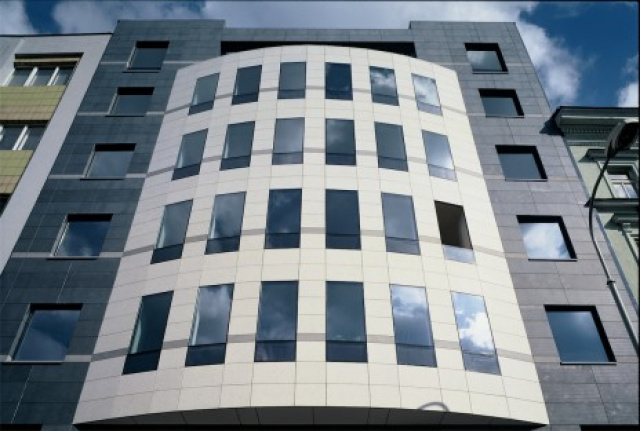 Sipral delivered the complete envelope to both street facades formed by individual windows embedded into openings in a monolithic reinforced concrete structure and ventilated envelope consisting of two kinds of stone in two shades of grey.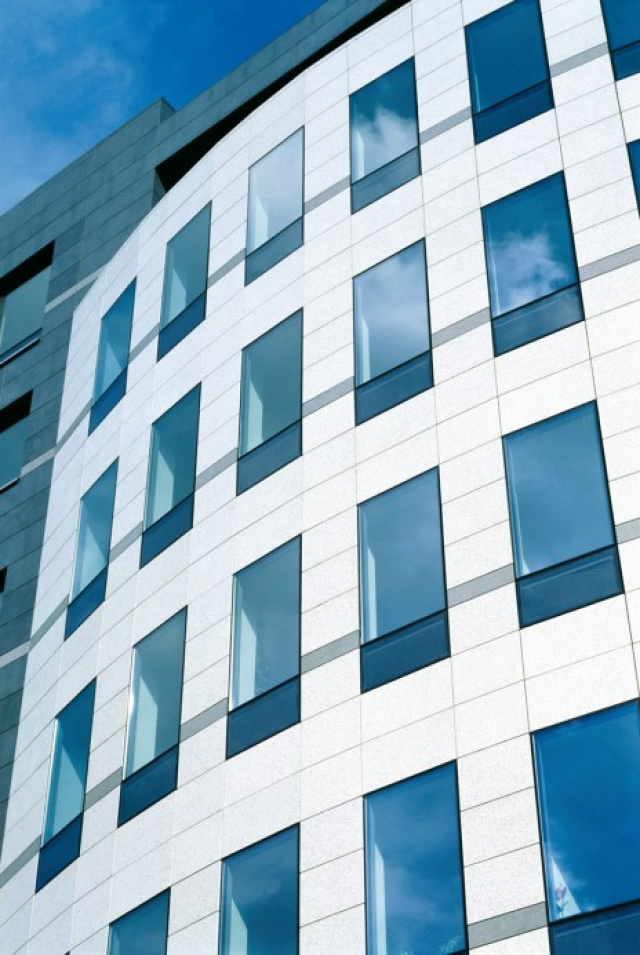 Basic visual concept of both street facades is identical. The central area consists of a light stone cladding with structurally glued windows, bordered with a dark stone cladding with opening windows enabling natural ventilation of the interior. At the level of the 1st floor there are the main entrance and garage entrances. The geometric solution is different. The central light area of the facade leading to Londýnská street is in the vertical level highlighted with an asymmetric oriel while the facade facing Bělehradská street forms an arch in the central area that creates a polygon in the cladding and windows. Exact setting out of the facade in this part had to be very exacting. Structural glazing of windows in the polygon part enables to match external face of glass with the stone cladding plane.
We also supplied strips of shop windows in the walk-through passage that are made of steel thin-walled profiles and clad with varnished sheet. In the middle of the passage in the courtyard there is one wall and the passage roof covered with glass point-fixed on steel beams made of rolled profiles. 
In the offices on the top floor there are balcony walls with tilt-sliding doors leading to roof terraces installed.