The building is located in Růžová 6, Prague 1. It is composed of a rectangular block of houses creating an empty courtyard in their center. The project's aim was to roof the courtyard with a pyramid-like structure standing on columns made of reinforced concrete. The pyramid bearing structure is all made of reinforced concrete with high ratio of bars to provide high degree of safety in this printing facility.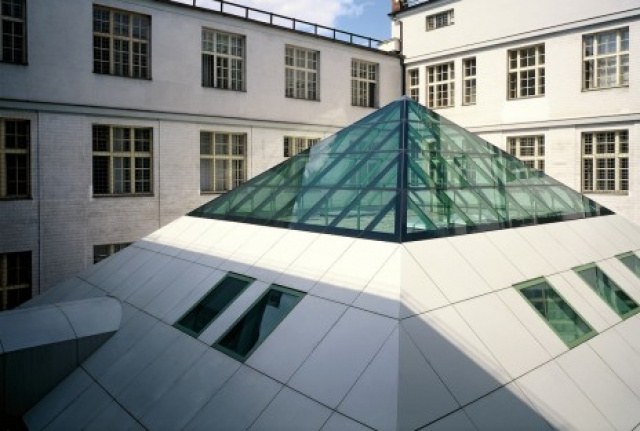 Sipral supplied the glazed "top" of the pyramid made of Schuco stick system facade, the building warming-up system made of TRIMO sandwich panels that at the same time serve as waterproof enclosure of the building, window panels and bond cassette cladding. Window panels of the pyramid suit the extreme safety requirements demanded by this facility, they are glazed with bullet-proof double-glass units and equipped with safety fitting.
From technical point of view the most difficult issue was to create exact continuous lines between the bottom bond part and top glazed part of the pyramid, since the boards are spatially bent while the line of the glass units is structurally glued. That is the reason why preciseness of machining and installation was extremely important.   
From the point of view of supply the project was difficult not only because it is located in the city center and there is no space for material storage but mainly because all works were done under a special safety regime of Státní tiskárna cenin. When any securities were delivered or dispatched, which could happen several times a day, it was necessary to interrupt all works and leave the building. It was hard to plan a smooth workflow and continuity as well as the site supply.