In Sokolovská street near Křižíkova metro station and close to Prague old town Sipral took part in completion of an office complex in 2000. The complex contributes to successful transformation of Karlín into commercial and administrative quarter. The building of 10000 m2 of leasable area is composed of three parts: a historical building with a facade facing Sokolovská street and two former factory halls that were completely reconstructed and transformed into modern office buildings. All three parts of this administrative complex are inter-connected through a glazed atrium where a central reception is placed.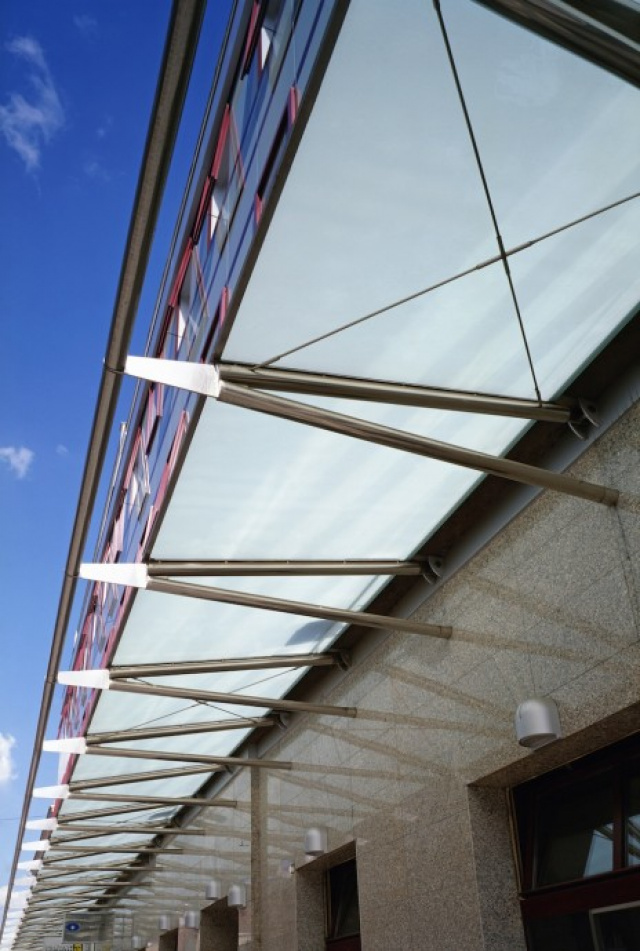 Sipral´s works included supply and installation of a front facade of the five-storey reconstructed historical building leading to Sokolovská street. The facade of the 2nd – 4th floor is formed by enamelled glass cladding that are set by 250 – 350mm off the original facade and glued on the bearing aluminium system of Structural Glazing technology. Glass cladding panes are made of single tempered glass with ground edges. From aesthetic reasons with the aim to emphasize horizontal zoning of the facade the glass units are equipped with horizontal strips. These were created directly on individual glass panes with a technology of colour-distinguished enamelling. From the same reason there is a horizontal optical divide of Alucobond boards between the 4th – 5th floors on the external face of the facade. The facade of the last, 5th floor is made without a glass cladding so optically it seems offset nevertheless the plane of the brick wall is continuous in relation to the lower floor.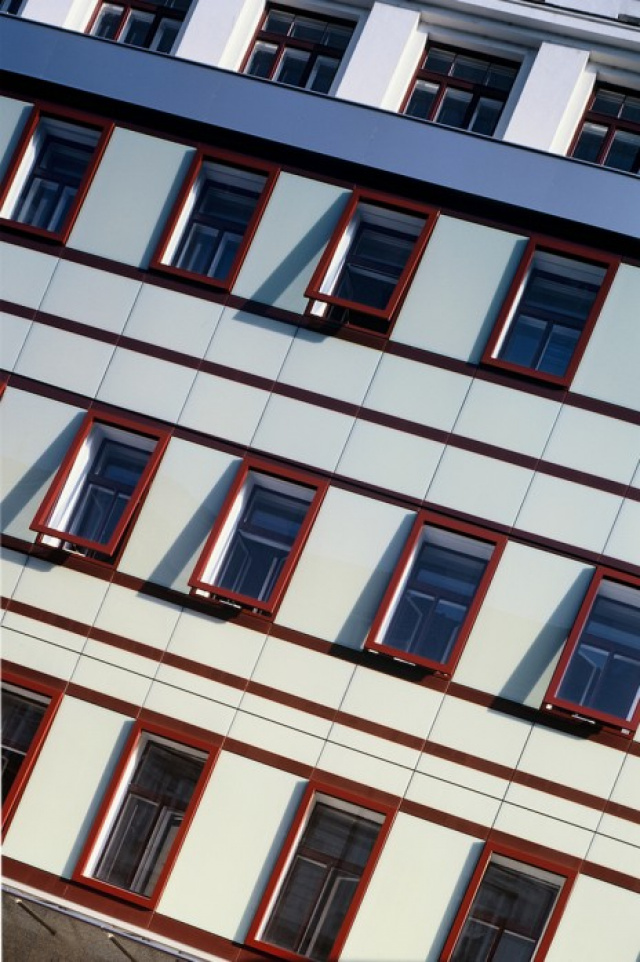 Over the entire facade area there are windows installed. Regular distribution of these respects the original design of the facade. Besides, the new facade is complemented with a second layer of opening windows placed outside the original ones enabling effective ventilation of the inner space. Windows bordered with red frames corresponding with horizontal lines the glass facade are controlled with electric motors with individual control from individual offices.
On the 1st floor level there is a glazed canopy with a bearing stainless steel structure installed along the whole length of the bottom collar of the facade above the building entrances. Straight glass panes made of matt safety glass are fixed with joint disk holders and each third field is equipped with metal tension rods. These work not only as stiffeners but also as aesthetic features.