At the turn of the years 1999 and 2000 Sipral delivered several structures within a new building of the poly-functional building in Michle, Prague 4 district. The project was in fact divided into two individual parts, a steel staircase and its related glazed structures and external as well as internal Rostek maintenance system.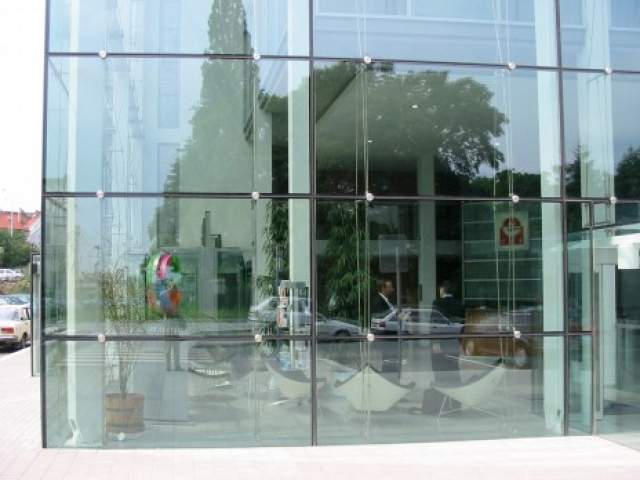 A steel staircase is located inside the building along the whole height of 5 floors. It is a two-arm string staircase suspended on tension rods with a semi-circular landing on each intermediate floor. Landings and steps are made of glass with sand-blasting on the whole area. The steel structure of the staircase is equipped with white fire-proof coating, the glazed railing is finished with a stainless handrail. For the second staircase of atypical shape Sipral also delivered a glazed railing with atypical handrail but in this case it was necessary to fabricate templates of individual glass units 1:1 and then fabricate the exact shapes.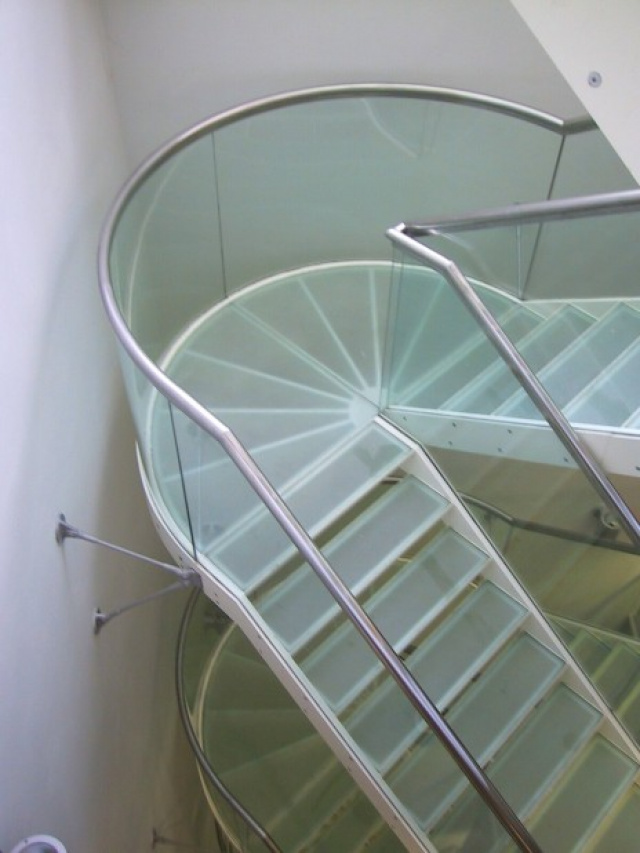 All-glazed sliding walls in the canteen were made of 21 pieces of 12 mm thick glass units of 2,7 x 1,5 m. The glass units are covered with a print and 3M foils and they are sliding thanks to a hardware and a railing mechanism. The glazed walls were also installed in individual floors at the lifts.
To maintain the peripheral cladding of the building Sipral installed external and internal monorail maintenance system, a subtle aluminium profile that is attached along the facade with zinc-coated steel anchors in the exterior and in the interior to the concrete ceiling slab where it copies the atrium shape.  
Each of tracks is equipped with its own trolley with eyes to attach a climbing rope and a screw brake. The rope is attached in the trolley eye with a snap-ring and it is moved along the profile to a required position. When the screw brake is tightened the trolley is fixed against side movement. At the end of each track the monorail profile is equipped with final stops that prevent the trolley from slipping off from the profile ends. That is the reason why the trolleys are non-removable. When works are finished the trolley goes back to its "entrance" (the best achievable) place and is fixed with a screw brake against its movement.  
Access to light bodies placed in the concrete ceiling slab of the atrium is solved with climbing equipment.  At the distance of 400mm from the RS110 monorail track there is the first abseil eye for climbers. Another eye from which a light body can be reached is placed 400mm away from the first one.